Below is a list of current and previous programs. Our funding comes primarily from donations and grants, and all of the programs can only happen with the generous help from our donors, and grants from our sponsorship partners.
Previous Programs & Events
Respect the Architects at Movement Music Festival 2022 & 2023
Resident Advisor, Detroit Techno Foundation, and Underground Music Academy present Respect the Architects exhibition exploring some of the Detroit electronic music community's most impactful and unsung heroes.
"Much has been written about the first wave of Detroit techno artists and as pioneers of one of the most impactful genres in the world. This list is designed to shine a light on the unsung heroes who ghost-wrote classic records, created the structures, spaces, and scenarios that allowed techno to grow beyond the wildest dreams of its inventors, and the mentors who have supported and inspired the subsequent waves of Detroit techno artists in finding their sound and place in the musical world.
If you recognize these names we hope you will join us in telling their stories and celebrating their impact, if you don't – we hope you take the time to listen and learn about the people who built Techno City."
Underground Music Academy
Respect the Architects exhibition is located in the Underground Amphitheatre (old underground stage). It will be open to all attendees during festival hours.
---
Detroit Techno: Music That Influenced the World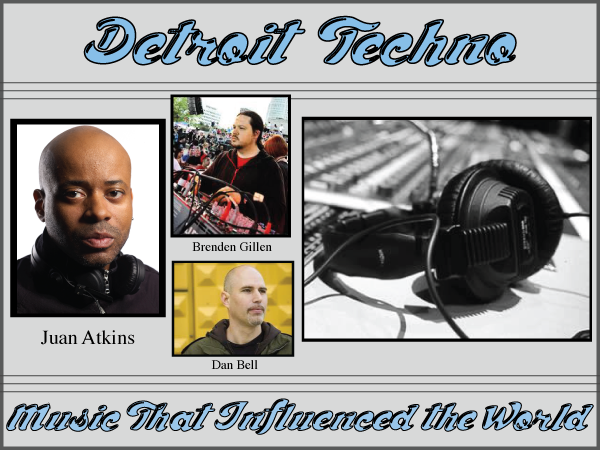 Archived panel from 2013 presented by University of Michigan Detroit. Hear Juan Atkins, Dan Bell, and Brendan Gillen discuss the history and future of Techno music.
---
DTF Event Series.
DTF partners with community venues large and small, in addition to cultural institutions such as Detroit Historical Museum and Underground Music Academy to create events that celebrate Techno's past, present and future.
---
DTF Educational.
In the past, we have supported organizations such as Afrorack, Youthville, and Notes for Notes in their missions of increasing access to electronic music education.